Skip to Main Content
It looks like you're using Internet Explorer 11 or older. This website works best with modern browsers such as the latest versions of Chrome, Firefox, Safari, and Edge. If you continue with this browser, you may see unexpected results.
Transfer Information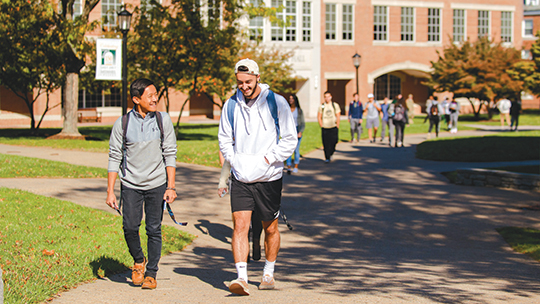 A small, 4-year, private liberal arts college. This coed college is located in a large town in a suburban setting and is primarily a residential campus. It offers bachelor's and master's degrees.
Type of School
Small
1,680 total undergrads
575 degree-seeking freshmen
Location: 2 College Hill, Westminster, MD 21157
Awards and Accolades
Featured in Princeton Review's Best 386 colleges

U.S. News #1 Best Value Regional University in the North
Demographics
Domestic Students of Color, undergraduate: 36.3%
Undergraduate Student Distribution: 32 states and Washington D.C.
Transfer Admission
Admission Requirements: High School Transcript, College Transcript(s), Essay or Personal Statement, Statement of Good Standing from Prior Institution(s)
SAT or ACT scores optional
Common Application: McDaniel Application or Common Application can be used
Deadlines: March 1 (Fall Priority Deadline), July 15 (Fall Final Application Deadline), December 1 (Spring Application Deadline),
Applications Fee $0
Costs
Estimated Cost of Attendance: $61,042 (on campus) $55,846 (off campus) $51,246 (at home)
Annual Tuition and Fees: $45,876 (Full-time), $1,434 per credit (Part-time)
Room and Board: $12,246
Financial Aid and Scholarships
Academic scholarships: $5,000-$21,000. Honors Scholarship Program: $23,000-full tuition; separate competitive process with application due 1/2; interview required. Dorsey Scholars Program: full tuition, room and board; based on 1400 SAT, 3.8 GPA in rigorous curriculum, discussion-based sessions, interviews, essay.

Legacy Scholarships: the Alumni Legacy (for the children, step-children, or grandchildren of McDaniel college graduates); the Educator's Legacy (for children of educators); and the Military Legacy (for military personnel and their children who have served or are currently serving in one of the US Armed Forces. Each program has a $25,000 per year value for a maximum of 4 years.)
Federal Grants: Federal Pell Grant and Federal Supplemental Educational Opportunity Grant (FSEOG)
Academics
Student-Teacher Ratio: 12 - 1
Outcomes
Six year graduation rate 68%
Mascot
The Green Terror