Skip to Main Content
It looks like you're using Internet Explorer 11 or older. This website works best with modern browsers such as the latest versions of Chrome, Firefox, Safari, and Edge. If you continue with this browser, you may see unexpected results.
Mental Health

Proper nutrition, exercise and a healthy lifestyle that includes socialization and mental stimulation keep your body healthy in all areas, including the brain. From memorise.org
Articles from Databases
Science Direct

Articles from journals on science, technology and medicine for advanced research.
What is Emotional Wellness
"Emotional wellness inspires self-care, relaxation, stress reduction and the development of inner strength. It is important to be attentive to both positive and negative feelings and be able to understand how to handle these emotions. Emotional wellness also includes the ability to learn and grow from experiences. Emotional well-being encourages autonomy and proper decision making skills. It is an important part of overall wellness." (University of California, Davis)
Below are some strategies for you to practice in order to boost your emotional wellness.
Remind yourself to stay positive, always.
Smile.
Seek or accept help and support from others when needed.
Employ gratitude to your life in order to strengthen relationships with family and friends.
Practice being mindful and increase your awareness. This can be done through various forms of meditation.
Accept mistakes and learn from them for next time. Mistakes are not terrible experiences; they are learning experiences.
Balance your other dimensions of Wellness.

(University of California, Davis)
Stress Management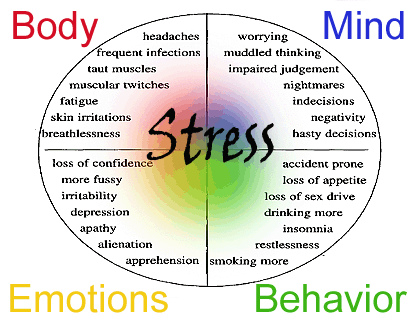 Image:http://www.hotelmanager.net
STRESS MANAGEMENT
Feeling stressed is a normal and learning how to cope with stress is essential to being emotionally well. How each of us responds to stress is as individual as we are.